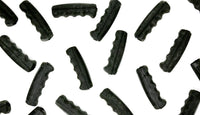 Quality Moulded Finger Grips, Boat Trailer Parts, Pedals and Horn Bulbs
J Price (Bath) Ltd has been producing great quality moulded products for over 84 years. We have been manufacturing a variety of rubber parts here in the UK. We offer great quality finger grips for equipment such as sack trucks, lawnmowers, scooters, and boat trailer rubber rollers. We also stock replacement pedal pads for trikes and bikes and horn bulbs for horns and instruments too. Our products are moulded to last and are weather resistant.
Can't find what you are looking for? Contact us for our full range of rubber moulding products.
Rubber parts for Industry, Classic and modern cars, Marine parts.
Great products would recommend.

Mr J Smith, Cambridgeshire
The 3/4 inch grips in green work really well on my refurbished lawnmowers.

Arthur's Lawnmower Repairs
We have ordered for years and keep coming back for more

Wholesale Company